Strolling in the streets, you must stay at a distance from everyone!
With each person you cross, you save more and more lives.
made with Richard Wiseman
graphics by Julia Martinez Baiardi & Charline Hedreville
​​​​​​​​​​​​​​
2020 - Development Time: 2 weeks
Game Design, Programming, Animation, 2D Graphics, Sound Design, FXs
Can You Save The World ? was made at the initiative of Richard Wiseman, a fantastic British psychologist, magician & author.
We worked during the Coronavirus crisis, aiming at providing a fun and accessible way for children to learn about social distancing.
​​​​​
Our game has been used in schools and higher education institutions throughout the world!
The English BBC 4 Radio made a bit about our game : give it a listen!
The game received a wide media coverage, notably from the BBC, and other news outlet such as RT, the Daily Mail, Thomson Reuters Foundation News, NDTV, and many others.
It has gotten 170.000 views since its launch,
and counting! 
Educational institutions in England, the USA, Denmark or Singapore have been using it since to teach about social distancing and educational game development.
​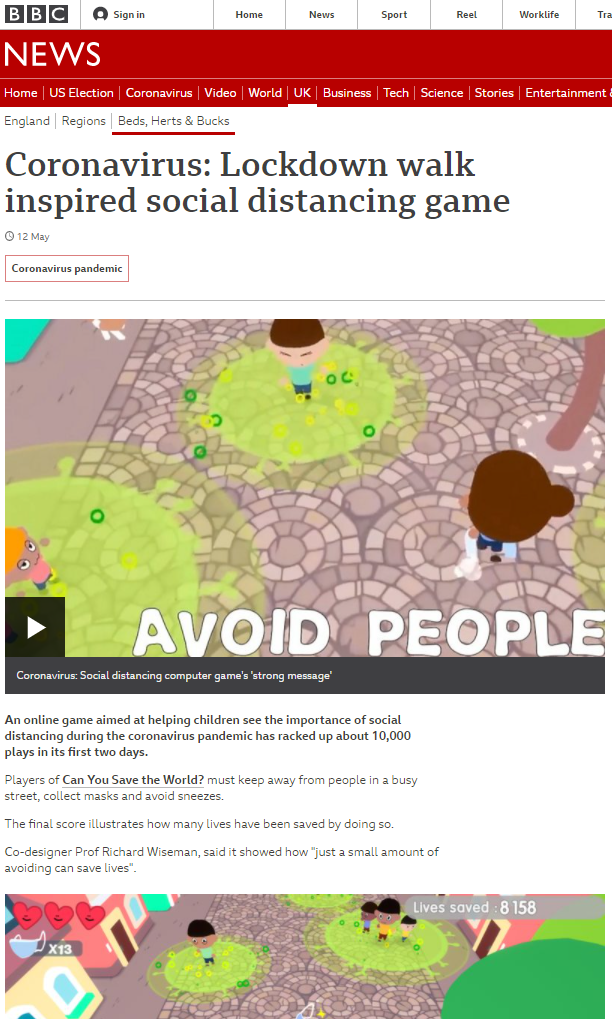 Here are some promotional screenshots from the game :​​​​​